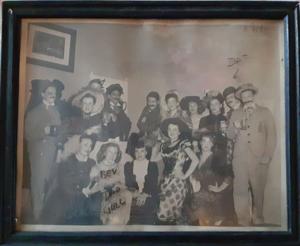 On the shelf of a thrift store, Pete the Rat and Edith Vanderlop were frozen in time. Fake moustaches and feathered hats, brew mugs and party dresses abound as a scene depicting the wild side of the New York Bowery in days past was immortalized and framed. On the back of the old photo is a playbill. The 1947 performance was "Gold in the Hills or the Dead Sister's Secret", a play by J. Frank Davis which holds a place in the Guinness Book of World records as the longest running show ever. Every year, somewhere, the show has been performed since 1936.
The fifteen teenagers posed in the photo made up the Ward Players, Westerly High School's Drama club. The first high school in Westerly was built on Elm Street in 1870. When it became too small to serve its purpose, a new high school was built on Broad Street. By the 1920s, that building had been outgrown as well and a school for only junior high students was constructed on Highland Avenue. Eventually the Broad Street School was replaced by a new school, Ward Senior High School, built on Ward Avenue in 1937. Teenagers from Hopkinton, Charlestown and Richmond, being without a high school of their own, received their education at Ward Senior High.
Among the Chariho area residents who became Ward Players was Russell "Russ" Kenyon Jr. Seventeen years old in the photograph, he played the role of James H. Glue. He lived in the village of Kenyon with his parents, Russell and Mary, and remained a member of the drama club until graduation in 1949, the school's acting coach being Lucy Rawlings Tootell.
Russell went on to attend Louisiana Polytechnic Institute. He retired as a Master Sergeant after 22 years in the United States Air Force. He served for 18 years on the Charlestown Planning Commission and also served on the Charlestown Town Council. The husband of Alice Bell, he passed away in 2005.
The old photograph depicts an arrow pointing to Russell and notes the young actress who was his "girl" at the time. The playbill lists those who put together their costumes, applied their make-up, sold tickets to the show and ushered the audience members to their seats. The Ward High School Band supplied the music and the Junior High Dramatic Club provided the younger actors necessary to fill some of the roles.
The backing is crumbling and carefully held on by strategically placed nails. A simple string, for hanging, is dirty and dusty and attached by two large thumbtacks. After recently being purchased from the thrift store, a thick coating of dust was wiped from the glass before the photograph was once again placed upon a wall so that, 75 years after the camera flashed, that high school show and its story can still go on.